FORWARD Hosts Pan-European Conference on Tackling FGM
In February 2017 FORWARD hosted Tackling Female Genital Mutilation in Schools: Adopting a Holistic and Proactive Approach, a one day pan-European conference, alongside the End FGM European Network.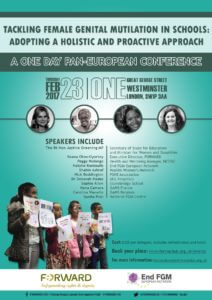 The conference was an opportunity to enable key professionals and education authorities to improve their understanding of the critical role that schools and education professionals play in addressing FGM, to share best practices, and develop new insights and skills for safeguarding and preventing this grave human rights violation. It was attended by primary and secondary school staff and Heads, youth organisations and members of the education sector.
FORWARD's Work with Schools
Since 2013 FORWARD has led the way working with schools to end FGM through our multi-award-winning National Schools Programme. The programme educates and empowers schools, young people and teachers with knowledge on the issue of FGM, contextualised within frameworks such as human rights, gender equality and bodily integrity. FORWARD's National Schools Programme has worked with over 25,000 young people in schools across the country, trained nearly 6,000 members of school staff, two academy chains and worked with nine local authorities to support the implementation of a regional coordinated schools response to FGM.
About the Day
The day covered a number of issues related to approaches to deal with FGM in education settings. These included: FGM and family law; policy and legislation; Sharing learning around engaging schools to end FGM; and disclosures, support and emergency engagement.
The Rt Honourable Justine Greening MP opened the day as Keynote Speaker and was followed by a range of speakers from youth organisations across the UK, school staff, the home office, local authorities, and others to share experience and best practice. You can download the day's agenda here and the full list of speakers here.

Click here to see more photos from the day.
Quotes from the Day
"We've changed the law to introduce a new offence of failing to protect a girl from FGM with a maximum 7 years in prison. We've also introduced FGM protection orders to help keep girls safe. 79 orders have been issued, that's 79 girls protected." Rt Honourable Justine Greening MP

"Here's a warm up exercise! Turn to the person next to you and tell each other what your favourite food is. Ok, now turn to the person next to you and tell each other what your favourite hobby is. Now, turn to the person next to you and describe your genitals. […] We must be conscious of what we are asking young people to do when we talk about FGM." Peggy Mulongo, Health and Wellbeing Coordinator, NESTAC

"I don't think we need more legislation in the space. Now we need to train frontline professionals on the legal framework." Christian Papaleontiou, Head of Public Protection Unit, Home Office
New Website Launched
The conference was also the occasion for the launch of FORWARD's new Youth website: www.forwardyouth.org.uk. The website provides information about FGM, support available, and campaign actions written for young people. The website will eventually provide a forum for school staff to seek and share information, this section will be launched in September 2017.
To find out about requesting training from our Schools Programme for your school, click here.
If you are a front line professional and would like more training about FGM, click here to contact our training team.