New Research on Male Perspectives on FGM Released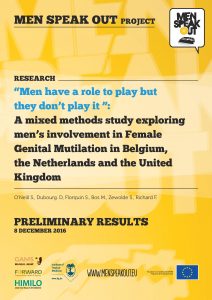 On Thursday 8th December 2016 Men Speak Out released our ground-breaking research addressing the role men play in the practice of FGM and the campaign to end it.
"Men have a role to play but they don't play it" : A mixed methods study exploring men's involvement in female genital mutilation (FGM) in Belgium, the Netherlands and the United Kingdom.
It is estimated that over 500,000 women and girls are living with FGM in Europe, this includes 137, 000 girls and women in the UK (Macfarlane & Dorkenoo 2015), 29,000 in the Netherlands (Exterkate 2013) and 13,000 in Belgium (Dubourg & Richard, 2014).
However, there has been limited research on men's involvement in decision making on FGM. Due to this lack of knowledge a cross European project engaging men on the issue of FGM, Men Speak Out, was launched in January 2015 with FORWARD as the UK partner.
"In Ethiopia they call uncut girls 'bale antenna' – girl with antenna [laughter]. Men prefer them for sex…they are seen as having lots of feelings and are good at sex. But not for marriage. The man thinks she goes around and sleeps with men because she needs too much sex. Circumcised girls are without feelings. They say 'she just lies there'- and she is not responsive to the man [during sex]. So the man goes and sees a bar lady." Young man from Ethiopia, age 20, UK.
This research is one of the outcomes of the Men Speak Out project, with feedback from in-depth interviews, focus group discussions and surveys from over 1,700 participants from the 3 countries. The research includes findings on:
Reasons for practicing FGM;
Men's knowledge of FGM and its health risks;
Communication between women and men about FGM;
Men's perceptions of FGM specifically in relation to sexuality, marriage and law; and
Men's involvement in the decision-making process.
The Study was launched Thursday 8th December at Jubilee Room, House of Commons, hosted by Baroness Jenny Tonge of the UK All Party Parliamentary Group on Population, Development and Reproductive Health.
Men Speak Out is  European project led by GAMS Belgium, with FORWARD in the UK, HIMILO Foundation in Netherlands and the Institute of Tropical Medicine in Antwerp as partners.