Tribute to Efua Dorkennoo OBE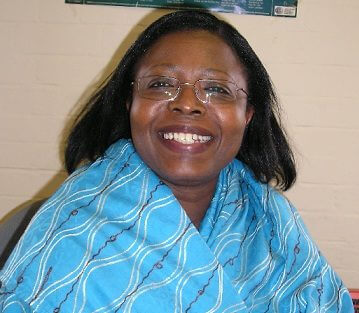 2015 will mark the 30th anniversary of when FORWARD was registered as a charity, but Efua Dorkenoo OBE, the founder of FORWARD will not be with us to celebrate her success story. Sadly she passed away on the 18th October 2014. Efua Dorkenoo, a biosocial scientist, researcher and trained nurse, famously referred to as the "Mother of the Campaign" came across female genital mutilation (FGM) while doing a short course in midwifery in the early 1970s in Sheffield. Efua was part of a health team attending to a young mother facing difficulties in giving birth. The woman had been badly scarred after undergoing FGM, due to the severity of the procedure she was not able to give birth naturally and had a resulting caesarean section. The health team had never come across FGM, and with no understanding of the practice they lacked the necessary calm, skill and training to deliver the woman's child naturally. It was an experience which stayed with Efua for many years to come, leading her to research into the practice and to start campaigning towards its elimination. She went on to set up FORWARD to bring to the forefront evidence of the need for special care of women living in the UK who have undergone the severest forms of FGM.
FORWARD evolved from the Women's Action Group for Female Excision and Infibulation (WAGFEI), a group consisting of UK-based women concerned about FGM. Efua coordinated the group between 1981 and 1983 under the auspices of the London-based international human rights organisation, the Minority Rights Group (MRG). Representing WAGFEI, Efua travelled to several FGM-affected countries in Africa, gathering facts on the practice, which were later collated into an MRG report on FGM providing tangible recommendations for future action.
Efua was instrumental in facilitating the formation of the Inter African Committee (IAC) on Harmful Traditional Practices, to address FGM in Africa. The IAC is an African Regional Body with national chapters in 28 African countries. She helped to conceptualise FGM as a human rights concern and placed this once taboo subject on the agenda of the United Nations Commission in Geneva. Efua took this campaign to the World Health Organisation to help shape its work on FGM including the landmark study on the obstetric impacts of FGM on women affected by FGM.
For her contribution to the pioneering work on FGM, Efua was awarded the OBE in 1994.
Efua Dorkenoo OBE, continued to make great strides in the FGM campaign on her return to the UK in 2005, supporting FORWARD in the landmark research on FGM prevalence which was released in 2007. Efua moved on to join Equality Now and followed her passion for informing and shaping the campaign on FGM in the UK and globally. As Director of the new DFID funded Girl Generation, Efua was again taking the campaign to a global level. There is going to be a huge gap left behind by Efua.
In the last few months Efua had continued to travel to Africa to gather information and pave the way for the Girl Generation project. This project has now been launched and another chapter has been opened in Efua's memory. We hope that we don't have to wait another 30 years to see the end of FGM.
FORWARD will forever remember Efua Dorkenoo OBE for her vision, insights and commitment to the campaign to end FGM and to make this human rights violation history. Her vision saw the creation of our organisation all those years ago, and we will remember her with great respect, for a sister who has left us but who has left behind a lasting legacy and movement amongst so many to work together to end FGM. FORWARD commits to honour her vision and continue her work until women and girls are free from the pain of FGM.
Rest in peace Efua, 'Damirefa due' (In Ghanaian language Akan (Efua's first language) this means: We acknowledge the deep pain within you and we condole you. This is said amongst the Fanti people when someone passes).