Saviour tells her TuWezeshe journey, Uganda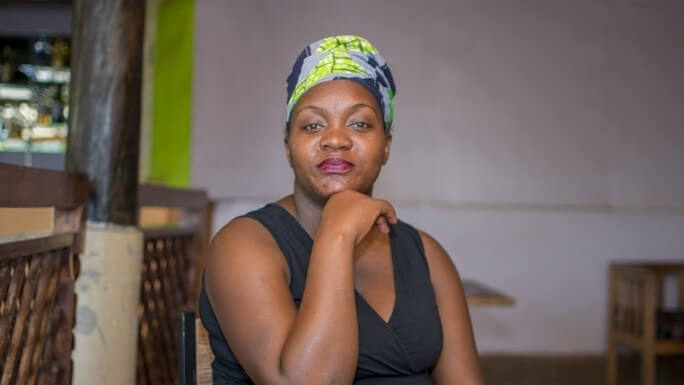 When I applied for the fellowship, I was broken. All I needed was a safe space to heal from the trauma of a broken marriage. Everyone around me judged me and often told me that I should have stayed back because so many women are being violated yet stay put in their marriages. I wanted to meet people that would listen to my story without judgment. My hope was also to learn skills in advocacy and leadership to fight for the rights of other women who were going through the same issues, and to build my career in life skills coaching.
The 5-day training wiped away the clash I felt towards other women. It taught me to love and support my fellow women and other human beings. This is how I learned to build an everlasting sisterhood – it has touched my heart that women celebrate and support one another regardless of their background, and work to achieve a common goal. I can confidently say that feminism is the greatest thing that has happened in my life.
My proudest achievements throughout my TuWezeshe journey have been starting my feminism journey and practicing it.
Delivering my 'Boys4Boys' project has been the most amazing journey of my life. It was literally seeing a dream come true – the dream of engaging men in the fight to end sexual and gender-based violence. Now, I have successfully reached 50 boys in secondary schools in Kampala, who are mentoring fellow boys on how to live in equality with women. This experience has greatly expanded my knowledge and skills in advocacy, resource mobilisation, financial accountability, and sparked ideas on how to deliver the message of ending violence focusing on male engagement.
One and a half years down the road, I have learned how to influence policy, and have been in a network of many influential people in the Uganda Women's Movement. I successfully launched the Legacy World Initiative that focuses on Human Capital Development and Advocacy for Human Rights, and have been invited to different platforms to share my domestic violence experience and advocate for gender equality with the Private Sector Foundation Uganda and UNDP. Going forward, I intend to expand the Boys4Boys project to the young men at institutions of higher learning, I intend to pursue gender studies, human rights, advocacy, and policies, and I also have a plan of launching a coaching institute in Uganda.
My advice to young women out there who wish to be a part of TuWezeshe is for them to build a lot of networks because that is where growth starts, and to break the silence around sexual and gender-based violence by recognizing and speaking out about injustices around them.
I am forever glad that I was selected to be part of this journey. This has been the greatest encounter in my life, ever.