Intro
There's often an ever-growing feeling of helplessness, as we become ''overexposed'' to what's happening in the world. We can also experience the all-too-familiar feeling of disempowerment and overwhelmingness with the amount of causes that demand our attention, especially with being a young person with responsibilities. At 17, I felt all of these emotions and I didn't feel I could move myself into action until a message was sent to my inbox.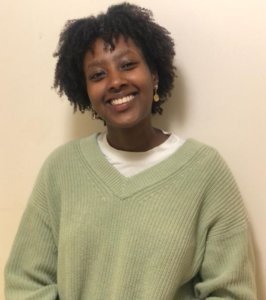 Rarely does an opportunity arise for a whole organisation to support you as an individual in your own cause, including with financial backing, access to networks, advocacy and campaigning skills, and project management and financial training. Add on experiences of forming sisterhoods and being in spaces with African women and girls and you have the young women's leadership programme TuWezeshe Akina Dada, meaning ''empowering our sisters'' in Swahili. The Tuwezeshe programme seeks to inspire a generation of young African women to engage in the civil and political spheres and galvanise collective action against all forms of violence against women and girls (VAWG).
Following a successful application, I became part of the first TuWezeshe cohort in 2016, which involved a three-day residential training with other young women. It was filled with workshops, conversations, guest speakers and self-care sessions. I was soon set up with a mentor who had lots of experience in advocating to end VAWG. With her guidance and FORWARD's support, I implemented my social action project in my local community.
Becoming a community champion
I organised an exhibition involving Black female students on my university campus to have their portraits taken and engage in a discussion about sexual and reproductive rights. I also led a panel discussion on Black identity being linked to the idea of womanhood. Afterwards, fellow students shared that having a Black space for them and seeing their faces around the Students' Union contributed to their sense of belonging at a predominantly white institution.
Through my social action project, I became a champion in my own community. This experience encouraged me to make greater change on campus for students.
FORWARD's Big Give Women and Girls Match Fund campaign, which launched on 8 March (International Women's Day) under the theme of #LetYoungWomenLead, will help to directly fund TuWezeshe programme implementation, in support of young women such as myself who have the drive to support their communities.
Influencing change at the European level
The impact of my TuWezeshe experience did not end on the university campus. With the skills and experience gained from the TuWezeshe programme, I have gone on to serve as a youth ambassador for the End FGM European Network, an organisation FORWARD co-founded at the European level. This meant I progressed from working locally to internationally.
In Brussels, I worked with other young activists from neighbouring European countries to create a youth manifesto for organisations to implement, empowering us to shape international work on ending VAWG.  I also had the opportunity to speak at a 2016 Home Office conference, where I represented the End FGM European Network and engaged in dialogue with other leaders from around the world. My fellow ambassadors and I also created our own platform – the Purple Chair – for other young people to start conversations surrounding FGM. We did this by addressing FGM myths, discussing knowledge of rights and listening to survivors.
Final reflections
Today, I am back working with FORWARD as the Policy and Fundraising Intern and am now responsible for co-facilitating the TuWezeshe programme. FORWARD serves as an example of what it truly means to invest in young women.
As someone who has been involved with FORWARD for 5 years, I know that by choosing to donate to an organisation that empowers young women means you are choosing to invest in new leaders and change-makers.
By Hadeel Elshak